The Cafe at On The Issues Online Magazine is deepening the conversations by continually adding the insights of progressive writers, thinkers and artists on the topics we address. Check back frequently for new commentary. If you wish to contribute to the Cafe, email cafe@ontheissuesmagazine.com.

We're now taking comments in The CAFE! Join the discussion.
In eastern Afghanistan under the glow of an April sun and the sweet scent of orange blossoms, a small revolution begins. Six young women, ranging in age from 13 to 19, huddle in the basement office of a local civil society organization and brainstorm ideas for a play by women about women -- and for women.

Just a week earlier, they had taken their first theater workshop ever.

Welcome to Jalalabad, otherwise known as Jollywood. This is the home of Afghanistans burgeoning film industry. The myriad DVD shops downtown display titles such as The Tailors Story, Faith, -- and Talk Show, starring local Afghan men and just-over-the-border Pakistani women.

This is also the home of the Nangarhar Provincial Theater, an all-male company that has been active for over 25 years, performing for everyone from the Taliban to schoolchildren to the current police department. A stones throw from the city proper is the former home of Osama bin Laden, a labyrinthine complex of mud bricks now leveled. Like most of Afghanistan, Jalalabad is many things at once: lush, beautiful, and teeming with hidden change-makers and Taliban sympathizers.
Actors Beyond Borders
Earlier this year Bond Street Theater, known internationally for its humanitarian work, received a grant from the US Embassy and the United States Institute of Peace to establish an all-womens troupe under the auspices of Nangarhar Theater. While a few other theater groups in Afghanistan did include women, in its nearly three decades, Nangarhar Theater has never had female actors due to the conservative political climate of the province.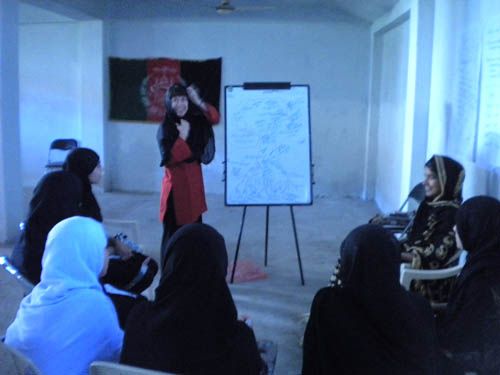 Joanna in a brainstorming session. All photos Sahar Muradi.

Joanna Sherman, artistic director of Bond Street, was looking for an Afghan American actor to accompany her. She reached out to me, and I enthusiastically agreed. It had been seven years since I was last there, and I couldnt think of a better way of returning than with theater and the possibility of sharing it with other Afghan women.
Stage Fright
We arrived in the evergreen city on April 1. The Public Diplomacy Officer at the U.S. Embassy recruited a 19-year-old Afghan woman named Farahnaz a dynamo university student with her own NGO. Farahnaz, in turn, recruited other younger teenagers she had mentored, promising them that they would learn new skills, help their country and receive a small stipend. Fifteen young women showed up, covered from head to toe with just their eyes exposed.
What is theater Joanna and I asked them.
Dancing, said one.
Being on TV, said another.
What! Is that what this is exclaimed a third. If so, I am leaving right now!"
Most of the girls were unfamiliar with theater and had a very negative impression of what it might be. Generally, they thought of Bollywood. Although Bollywood films are relished across the country, it would be an entirely different matter if those were Afghan girls singing, dancing and being pursued by men through fields of flowers. The girls worried we were recruiting them to participate in presentations that would compel their families to disown them. They looked at us as if to say: Didnt we know we were in Jalalabad
After much discussion -- it helped that I was from Afghanistan -- the girls agreed to participate. Joanna and I had to agree to no filming or photography. We also agreed to hold the workshop in a discreet, safe location and that the girls would not be obligated to actually join the troupe and perform plays. The overarching consensus was that we were there to have fun.
The Powers of Jollywood
Over the next ten days, four hours a day, Joanna and I worked with the girls. We conducted warm-ups and movement games; practiced dramatic theater techniques and dialogue. The girls were shy at the start, giggling behind their hands. Farahnaz, though, set an example with her uninhibited enthusiasm and motivation, and slowly the others began to open up and risk looking silly. Like with youth anywhere, a little encouragement can go a long way, and after just a couple of days,
they
were leading the exercises and laughing unabashedly. One exercise required them to shout out their own names as if throwing them over a mountain. They were struck by how empowering it felt to do that. What was already in them and only suppressed because we were two strangers among them, suddenly took over the room. It was talent and courage and joythe very stuff of theater.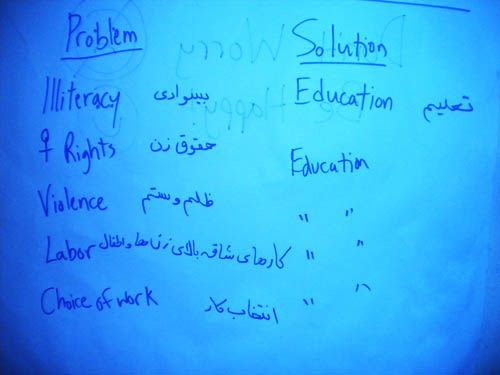 The girls with their training certificates.
The six girls divided up the roles, with some of them playing multiple characters. We created a minimal set with few props so that it could be a portable play. A change of headscarf or turban would signify different characters. The girls brought great humor to a very serious topic. And, incredibly, they never wrote out their dialogue but improvised the whole thing!
As a group, we identified five places to perform: A support center for widows, the womens prison, an orphanage and two womens
Shuras
or councils in the countryside. The girls worked outside under the hot sun, before convicted criminals and crying babies. This was off-off-off Broadway to say the least. Everything was a first, for actors and audiences alike. Jaws would drop, laughter would erupt, there were gasps followed by long silences, and then, a raucous applause. The cast finished each performance with moving discussions with the audience on what they experienced and how it applied to their lives.
At the very end, we asked: So, how many of you are interested in being part of this all-womens troupe Six hands shot up. The revolution had begun.
Read the blog posts here
.